Article
Cover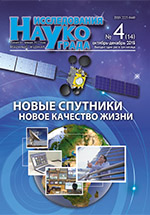 Title
The aggregation command and the rangefindertion measurements
Authors
2
A.I. Vildanov,
1
V.V. Evstratko,
1
A.V. Mishurov,
1
S.P. Panko,
2
S.A. Ryabushkin
Organizations
1
Siberian Federal University
Krasnoyarsk, Russian Federation
2
JCS «Academician M. F. Reshetnev» Information satellite systems»
Zheleznogorsk, Russian Federation
Abstract
Presents the principle of combining the range measurements not only on distance but also on command signal that increases the accuracy of measurement.
Keywords
measurement range, command transmission, the averaging results of measurements
For citing this article
Vildanov A.I., Evstratko V.V., Mishurov A.V., Panko S.P., Ryabushkin S.A. The aggregation command and the rangefindertion measurements // The Research of the Science City, 2015, no. 4, pp. 22-24.

This Article is licensed under a Creative Commons Attribution-NonCommercial 4.0 International License (CC BY-NC 4.0).