Article
Cover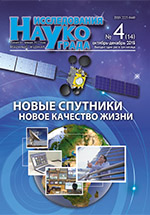 Title
Measurement of the velocity of the spacecraft
Authors
1
S.P. Panko,
2
M.S. Tsimbal
Organizations
1
Siberian Federal University
Krasnoyarsk, Russian Federation
2
JCS «Academician M. F. Reshetnev» Information satellite systems»
Zheleznogorsk, Russian Federation
Abstract
Reviewed multi-frequency measurement of Doppler shift frequency caused by the motion of the spacecraft, allows the abuser to increase the accuracy of speed measurement.
Keywords
Doppler shift frequency, error of measurement of speed of the spacecraft
For citing this article
Panko S.P., Tsimbal M.S. Measurement of the velocity of the spacecraft // The Research of the Science City, 2015, no. 4, pp. 25-29.

This Article is licensed under a Creative Commons Attribution-NonCommercial 4.0 International License (CC BY-NC 4.0).