Article
Cover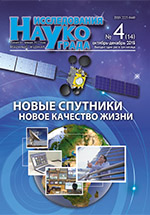 Title
The principles of automation control and test equipment for spacecraft
Authors
A.A. Gorchakovsky,
V.V. Evstratko,
A.V. Mishurov,
S.P. Panko,
V.V. Sukhotin
Organization
Siberian Federal University
Krasnoyarsk, Russian Federation
Abstract
Monitoring equipment for complex equipment of the spacecraft, a busy electronics requires automated creation of specialised devices operating according to previously developed scenarios. This paper describes testing equipment for conducting acceptance and pre-launch testing of the spacecraft.
Keywords
automation testing, sophisticated equipment, system of telemetry
For citing this article
Gorchakovsky A.A., Evstratko V.V., Mishurov A.V., Panko S.P., Sukhotin V.V. The principles of automation control and test equipment for spacecraft // The Research of the Science City, 2015, no. 4, pp. 30-32.

This Article is licensed under a Creative Commons Attribution-NonCommercial 4.0 International License (CC BY-NC 4.0).