Article
Cover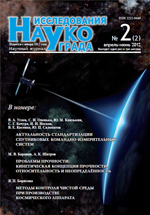 Title
Durability problems: durability kinetic concept, relativity and uncertainty
Authors
M.V. Baranov,
A.K. Shatrov
Organization
JSC «Academician M. F. Reshetnev «Information Satellite Systems»
Zheleznogorsk, Russia
Abstract
This article presents principles of relativity and uncertainty during destruction based on kinetic approach. The results of mathematical experiment to determine constants, which are responsible for bearing capacity consumption during destructive testing with constant loading growth rate are shown.
Keywords
kinetic concept, relativity, uncertainty, residual life
For citing this article
Baranov M.V., Shatrov A.K. Durability problems: durability kinetic concept, relativity and uncertainty // The Research of the Science City, 2012, no. 2, pp. 3-10.

This Article is licensed under a Creative Commons Attribution-NonCommercial 4.0 International License (CC BY-NC 4.0).