Article
Cover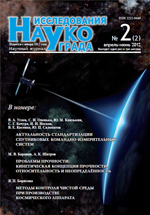 Title
Clear environmental control method within spacecraft building process
Author
Y.P. Borisova
Organization
Siberian Federal University
Krasnoyarsk, Russia
Abstract
The article is introducing environmental control within moder industry. Clear environment classification, standardization, method of control and history of this process are shown.
Keywords
clear environment, clear zone, particle, clearness classification, clearness standardization, clear environmental control method, air exchange
For citing this article
Borisova Y.P. Clear environmental control method within spacecraft building process // The Research of the Science City, 2012, no. 2, pp. 11-16.

This Article is licensed under a Creative Commons Attribution-NonCommercial 4.0 International License (CC BY-NC 4.0).