Article
Cover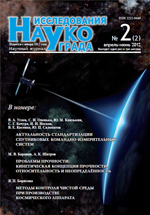 Title
Selection of satellite heaters performance under constraints
Authors
S.V. Timofeev,
M.A. Ilyin,
V.E. Chebotarev,
V.D. Zvonar,
R.F. Fatkulin
Organization
JSC «Academician M. F. Reshetnev «Information Satellite Systems»
Zheleznogorsk, Russia
Abstract
It is presented mathematical model to select satellite heaters performance with respect to criterion – minimum square of heated area (Under construction and heat constrains).
Keywords
heater, satellite, heat flow
For citing this article
Timofeev S.V., Ilyin M.A., Chebotarev V.E., Zvonar V.D., Fatkulin R.F. Selection of satellite heaters performance under constraints // The Research of the Science City, 2012, no. 2, pp. 20-22.

This Article is licensed under a Creative Commons Attribution-NonCommercial 4.0 International License (CC BY-NC 4.0).