Article
Cover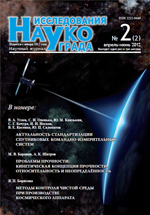 Title
The actual of satellite uplink communication system standardization
Authors
2
V.A. Uglev,
1
S.I. Openko,
1
Yu.M. Knyazkin,
1
S.G. Kochura,
2
N.N. Noskov,
1
V.E. Kosenko,
3
Yu.P. Salomatov
Organizations
1
JSC «Academician M. F. Reshetnev «Information Satellite Systems»
Zheleznogorsk, Russia
2
The Branch of Siberian Federal University in Zheleznogorsk
Russia
3
Siberian Federal University
Krasnoyarsk, Russia
Abstract
The standardization problem of communications satellites command and measuring systems is presented in this paper. An analytical survey of domestic and foreign regulations for standardization of equipment for space vehicles is carried out. The problematic aspects of the actual Russian standards are noted and task to develop a command radio link standard is set. An attempt to analyze the structure of the radio line standard based on industry knowledge base with system analysis is made. The possibility of efficiently updating the standards content through intelligent decision support system on the basis of ontologies is examined.
Keywords
satellite, CCATS, uplink communication system, standardization, standard
For citing this article
Uglev V.A., Openko S.I., Knyazkin Yu.M., Kochura S.G., Noskov N.N., Kosenko V.E., Salomatov Yu.P. The actual of satellite uplink communication system standardization // The Research of the Science City, 2012, no. 2, pp. 23-29.

This Article is licensed under a Creative Commons Attribution-NonCommercial 4.0 International License (CC BY-NC 4.0).