Article
Cover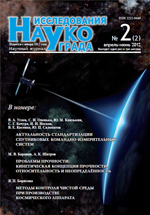 Title
Research of technology generation electric power on basis of the asynchronous machine with application of quick-response technology of objects renewed power
Author
A.A. Achitaev
Organization
Khakass technical institute – branch Siberia Federal University
Abakan, Russia
Abstract
Simulation by means a method of final elements the asynchronous machine on quick-response technology of a rotor is considered. Results as magnetic, so thermal field are received. On the allocated conditions are allocated in spheres of application in renewed power.
Keywords
Simulation of the asynchronous machine, method of final elements, wind power, renewed energy sources
For citing this article
Achitaev A.A. Research of technology generation electric power on basis of the asynchronous machine with application of quick-response technology of objects renewed power // The Research of the Science City, 2012, no. 2, pp. 54-58.

This Article is licensed under a Creative Commons Attribution-NonCommercial 4.0 International License (CC BY-NC 4.0).