Article
Cover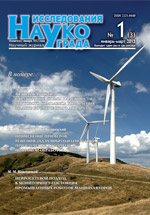 Title
Determination of buckling critical stresses for box-section short rod made of plasto-elastic material
Author
M.V. Baranov
Organization
JSC «NPO PM – Small Design Bureau»
Zheleznogorsk, Russia
Abstract
Critical stresses are calculated from minimal conditions of system's potential energy using Euler's variational problems equations. End formulas for axial and eccentric compression are derived. Computation method is given. It is shown, that computational and experimental data for support brackets of "Cosmos-3M" launch vehicle constitute a match.
Keywords
eccentric compression, plasto-elastic deformation, variational problem
For citing this article
Baranov M.V. Determination of buckling critical stresses for box-section short rod made of plasto-elastic material // The Research of the Science City, 2013, no. 1, pp. 3-8.

This Article is licensed under a Creative Commons Attribution-NonCommercial 4.0 International License (CC BY-NC 4.0).