Article
Cover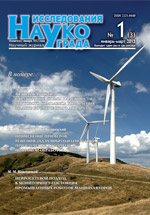 Title
The neural network use in internal measuring system for satellite`s equipment
Authors
1
D.A. Grishelyonok,
2
A.A. Kovel
Organizations
1
JSC «Academician M. F. Reshetnev «Information Satellite Systems»
Zheleznogorsk, Russia
2
Siberian State Aerospace University named after academician M F. Reshetnev
Krasnoyarsk, Russia
Abstract
This article presents the possibility of using experimental design techniques for learning sample generate. The results of mathematical experiment to learning neural network by mathematical model measurement system data are shown.
Keywords
neural network, learning sample, mathematical planning, boundary test
For citing this article
Grishelyonok D.A., Kovel A.A. The neural network use in internal measuring system for satellite`s equipment // The Research of the Science City, 2013, no. 1, pp. 9-13.

This Article is licensed under a Creative Commons Attribution-NonCommercial 4.0 International License (CC BY-NC 4.0).