Article
Cover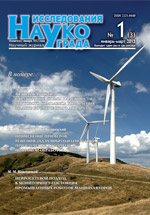 Title
Technique of a choice of the block diagram of reliability of an onboard complex of management of the small spacecraft
Authors
O. N. Zhdanov,
V.Kh. Khanov
Organization
Siberian State Aerospace University named after academician M F. Reshetnev
Krasnoyarsk, Russia
Abstract
Various block diagrams of reliability of a control system of small spacecraft are considered in this paper. The technique of definition of the optimum scheme is developed.
Keywords
Small spacecraft, control system, reliability
For citing this article
Zhdanov O. N., Khanov V.Kh. Technique of a choice of the block diagram of reliability of an onboard complex of management of the small spacecraft // The Research of the Science City, 2013, no. 1, pp. 14-21.