Article
Cover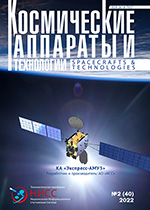 Title
Application of electric thrusters in a spacecraft propulsion system
Authors
1,2
N.E. Kovalenko,
1,2
A.A. Vnukov
Organizations
1
Siberian Federal University
Krasnoyarsk, Russian Federation
2
JSC «Academician M. F. Reshetnev» Information Satellite Systems»
Zheleznogorsk, Krasnoyarsk region, Russian Federation
Abstract
The place of electric rocket thrusters in a spacecraft propulsion system is pointed out; the tasks for such propulsion system are described. The modern classification of electric thrusters is given, in accordance of that one there are four classes, dissimilar due to a nature of processes that impart a kinetic energy to a propellant: electrothermal, electrostatic, pulsed and magnetoplasmodynamic. In order to illustrate an electric rocket thrusters sate of art, examples different classes electric rocket thrusters for modern spacecrafts are presented; the technical characteristics, such a thrust, specific impulse, powered energy and efficiency are systematized. As a general electric rocket thrusters for spacecraft propulsion system were chosen electrostatic thrusters: stationary plasma (Hall thrusters) and ion thusters. For the different classes of electric rocket thrusters the common characteristics are defined as a set of: specific impulse (that describes thruster propellant efficiency), thrust cost (determines electric power consumption per unit thrust) and propellant type (combines thruster's technical and economical characteristics). A necessity is stated to take into account the cost parameters of an electric rocket thruster design and a manufacturing during a propulsion system developing for a next generation spacecraft. The tasks are determined for the further research in the area of a techno-economic efficiency of electric rocket thrusters exploiting as a part of a spacecraft's propulsion system.
Keywords
spacecraft, propulsion system, electric rocket thruster, electric rocket thrusters classification, techno-economic efficiency
References
[1] Chebotarev V. E., Kosenko V. E. Osnovy proektirovaniya kosmicheskikh apparatov informatsionnogo obespecheniya [Fundamentals of spacecraft design information support]. Krasnoyarsk, SibGAU Publ., 2011, 488 p. (In Russian)
[2] Khanfar A. Perspektivy ispol'zovaniya elektroreaktivnyh dvigatelej v kosmicheskoj otrasli Rossii [Prospects for the use of electric jet engines in the space industry of Russia] // Achievements of modern science and education, 2017, no. 4 (4), pp. 193–196. (In Russian)
[3] Gorshkov O. A., Muravlev V. A., Shagaida A. A. Hollovskie i ionnye plazmennye dvigateli dlya kosmicheskih apparatov [Hall and ion plasma thrusters for spacecraft]. Moscow, Mechanical engineering, 2008, 280 p. (In Russian)
[4] Fortescue P., Swinerd G., Stark J. Spacecraft Systems Engineering (4th ed.). UK: John Wiley & Song, 2011. 724 p.
[5] Vorob'ev E. V., Denisov O. E., Kuznetsov V. I. Proektirovanie transportnyh sredstv special'nogo naznacheniya [Design of special purpose vehicles]. Moscow, MADI, 2014, 96 p. (In Russian)
[6] Yegorychev V. S. Teoriya, raschet i proektirovanie raketnyh dvigatelej [Theory, calculation and design of rocket engines]. Samara, Samar. State Aerospace Univ. named after S. P. Korolev, 2011. (In Russian)
[7] Nazarov V. Yu., Zhuravlev M. V., Kraev E. M. Raketnye dvigateli kosmicheskih apparatov [Rocket engines of spacecraft]. Krasnoyarsk, Sib. State Aerospace. Univ., 2015, 200 p. (In Russian)
[8] Grigoriev P. A., Yermoshkin Yu. M. Obzor sostoyaniya i tendencii razvitiya elektroreaktivnyh dvigatelej za rubezhom [Review of the state and trends in the development of electric jet engines abroad] // Reshetnev readings : materials of the XXI International scientific-practical conference, Krasnoyarsk, 2017, pp. 204–205. (In Russian)
[9] Gusev Yu. G., Pilnikov A. V. Rol' i mesto elektroraketnyh dvigatelej v Rossijskoj kosmicheskoj programme [The role and place of electric rocket engines in the Russian space program] // Electronic journal «Proceedings of the MAI», 2012, no. 60. URL: http://trudymai.ru/published.php?ID=35385. (In Russian)
[10] Vazhenin N. A., Obukhov V. A., Plokhikh V. A., Popov G. A. Raketnye dvigateli kosmicheskih apparatov i ih vliyanie na radiosistemy kosmicheskoj svyazi [Rocket engines of space vehicles and their influence on radio systems of space communication]. Moscow, Fizmatlit, 2012, 432 p. (In Russian)
[11] DeSantis D. Satellite Thruster Propulsion- H2O2 Bipropellant Comparison with Existing Alternatives. Available at: https://www.researchgate.net/publication/261288210_Satellite_Thruster_Propulsion-_H2O2_Bipropellant_Comparison_with_Existing_Alternatives/stats (accessed 22.10.2020).
For citing this article
Kovalenko N.E., Vnukov A.A. Application of electric thrusters in a spacecraft propulsion system // Spacecrafts & Technologies, 2022, vol. 6, no. 2, pp. 83-89. doi: 10.26732/j.st.2022.2.02

This Article is licensed under a Creative Commons Attribution-NonCommercial 4.0 International License (CC BY-NC 4.0).