Article
Cover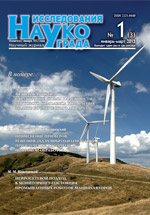 Title
Synthesis neuralregulator for difficult technological installations with application of binary indistinct relations
Author
V.M. Bujankin
Organization
Bauman Moscow State Technical University
Moscow, Russia
Abstract
In article the synthesis technique neuralregulator for difficult technical installations with the variable parameters, working in conditions when static and dynamic characteristics of objects of management have nonlinear, and sometimes and unpredictable character is considered. Neuromanagement systems with neuralregulator, are directly trained nonlinear static and to dynamic characteristics, providing necessary accuracy and quality of control systems with difficult technical installations. All it leads to integration in neuramanagement indistinct intellectual technologies.
Keywords
management, neural networks, the electric drive, executive mechanisms
For citing this article
Bujankin V.M. Synthesis neuralregulator for difficult technological installations with application of binary indistinct relations // The Research of the Science City, 2013, no. 1, pp. 33-41.

This Article is licensed under a Creative Commons Attribution-NonCommercial 4.0 International License (CC BY-NC 4.0).