Article
Cover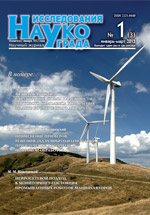 Title
Application of vibration monitoring solutions examples in scope of research in digital signal processing algorithms
Authors
P.Ju. Brancevich,
V.E. Bazarevsky
Organization
Belarusian State University of Informatics and Radioelectronics
Minsk, Belarus
Abstract
We cover vibrodiagnostic systems laboratory research issues while students studying of digital signal processing discipline in «software information technology» specialty. We notice practical orientation of the subject and its importance while practical engineering problems solving. We suggest internet resource implementation for signal data processing.
Keywords
Digital signal processing, vibration, training
For citing this article
Brancevich P.Ju., Bazarevsky V.E. Application of vibration monitoring solutions examples in scope of research in digital signal processing algorithms // The Research of the Science City, 2013, no. 1, pp. 49-55.

This Article is licensed under a Creative Commons Attribution-NonCommercial 4.0 International License (CC BY-NC 4.0).