Article
Cover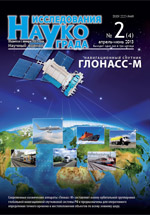 Title
The history of creation and development prospects for space navigation in Russia
Authors
N.A. Testoedov,
V.E. Kosenko,
S.V. Storozhev,
V.D. Zvonar,
V.I. Ermolenko,
V.E. Chebotarev
Organization
JSC «Academician M. F. Reshetnev» Information Satellite Systems»
Zheleznogorsk, Russia
Abstract
The Report describes creation milestones for the first and second generations of global navigation systems: the scope of work, phases and time periods, and the main satellite characteristics of these systems. The basic results for modernization of the GLONASS 2nd generation space segment obtained during the 'Global Navigation System' Federal Program fulfillment are given as well. The Report represents the principal directions of the space segment development and modernization defined in the 'Maintenance, development, and exploitation of the GLONASS system in 2012–2020' Federal Program.
Keywords
navigation satellite, method of navigation, navigation accuracy
For citing this article
Testoedov N.A., Kosenko V.E., Storozhev S.V., Zvonar V.D., Ermolenko V.I., Chebotarev V.E. The history of creation and development prospects for space navigation in Russia // The Research of the Science City, 2013, no. 2, pp. 3-15.

This Article is licensed under a Creative Commons Attribution-NonCommercial 4.0 International License (CC BY-NC 4.0).