Article
Cover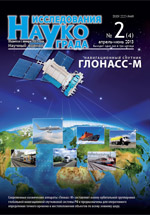 Title
Glonass is the Russian strategic resource
Authors
1
А.Yu. Daniluk,
2
S.G. Revnivykh,
3
N.A. Testoyedov,
4
G.G. Stupak,
4
Yu.M. Urlichich
Organizations
1
4th Central Research Institute of Defense Ministry
Yubileyniy, Russia
2
Information and Analysis Center for PNT of the Central Research Institute of Machine Building
Korolev, Russia
3
JSC «Academician M. F. Reshetnev» Information Satellite Systems»
Zheleznogorsk, Russia
4
JSC «Russian Space Systems»
Moscow, Russia
Abstract
It is considered the outcome of the 'Global Navigation System' Federal Program (2002–2011), as well as the goals and objectives of the 'Maintenance, development, and exploitation of the GLONASS system in 2012–2020' Federal Program. The priority of the new Federal Program is the mass adoption of native navigation technologies in both domestic and foreign markets of navigation services to the benefit of all types of users. Guaranteed services considering continuously growing demands of users to be provided by leading role of Russian Federation in satellite navigation by means of the GLONASS system maintenance and development, performances improvement, functional capabilities enhancement, conditions and field of application extension, and balanced development of all system components.
Keywords
the GLONASS navigation system, orbital group, differential augmentation system
For citing this article
Daniluk А.Yu., Revnivykh S.G., Testoyedov N.A., Stupak G.G., Urlichich Yu.M. Glonass is the Russian strategic resource // The Research of the Science City, 2013, no. 2, pp. 16-24.

This Article is licensed under a Creative Commons Attribution-NonCommercial 4.0 International License (CC BY-NC 4.0).