Article
Cover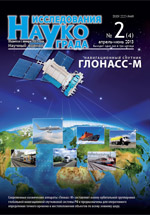 Title
Pressure receptacles for spacecrafts
Author
M.V. Baranov
Organization
JSC «NPO PM – Small Design Bureau»
Zheleznogorsk, Krasnoyarsk region, Russia
Abstract
The results of the calculation of the resource construction pressurized containers and pressure ballons for the spacecrafts and upper stages of development JSC «Academician M. F. Reshetnev «Information Satellite Systems» are written.
Keywords
pressurized container, balloon, leakproofness, hydraulic test
For citing this article
Baranov M.V. Pressure receptacles for spacecrafts // The Research of the Science City, 2013, no. 2, pp. 25-28.