Article
Cover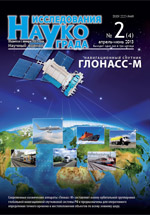 Title
Features of innovational processes for of science intensive manufactures of critical technologies
Authors
1
V.V. Dvirny,
1
G.V. Dvirny,
1
R.P. Turkenich,
1
M.S. Pakman,
2
V.V. Golovanova
Organizations
1
JSC «Academician M. F. Reshetnev «Information Satellite Systems»
Zheleznogorsk, Russia
2
The Arsenal Design Bureau named after M. V. Frunze
St. Petersburg, Russia
Abstract
The possibility of using the priority of space technology for the development of innovative processes in the manufacture of space vehicles and their components.
Keywords
innovation, space information systems, key technology, aggregates
For citing this article
Dvirny V.V., Dvirny G.V., Turkenich R.P., Pakman M.S., Golovanova V.V. Features of innovational processes for of science intensive manufactures of critical technologies // The Research of the Science City, 2013, no. 2, pp. 29-35.

This Article is licensed under a Creative Commons Attribution-NonCommercial 4.0 International License (CC BY-NC 4.0).