Article
Cover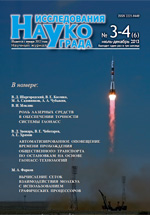 Title
Choice of structure of constellation of the prospective system GLONASS
Authors
1
G.G. Stupak,
2
S.G. Revnivykh,
2
E.I. Ignatovich,
1
V.V. Kurshin,
1
V.V. Betanov,
3
S.S. Panov,
4
N.Z. Bondarev,
4
V.E.Chebotarev ,
2
N.N. Balashova,
2
A.I. Serdyukov,
2
L.N. Sintsova
Organizations
1
JSC «Russian Space Systems»
Moscow, Russia
2
Information and Analysis Center for PNT of the Central Research Institute of Machine Building
Korolev, Russia
3
4th Central Research Institute of Defense Ministry
Yubileyniy, Russia
4
JSC «Academician M. F. Reshetnev» Information Satellite Systems»
Zheleznogorsk, Russia
Abstract
The presentation gives results of future GLONASS constellation structures trade-off analysis to support accuracy and availability improvement as well as competitiveness of navigation services for user. The evolution and methods of the GLONASS OG compensation were searched for different cases of the OG. Preliminary proposals for the GLONASS orbital group up to 2020 year are offered.
Keywords
the GLONASS system, availability, the orbital group (OG), the OG structure, the OG stability.
For citing this article
Stupak G.G., Revnivykh S.G., Ignatovich E.I., Kurshin V.V., Betanov V.V., Panov S.S., Bondarev N.Z., V.E.Chebotarev, Balashova N.N., Serdyukov A.I., Sintsova L.N. Choice of structure of constellation of the prospective system GLONASS // The Research of the Science City, 2013, no. 3-4, pp. 3-11.

This Article is licensed under a Creative Commons Attribution-NonCommercial 4.0 International License (CC BY-NC 4.0).