Article
Cover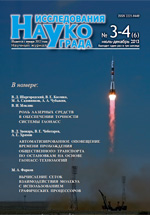 Title
Improving of the time-frequency support for GLONASS
Authors
P.P. Bogdanov,
V.E. Druzhin,
O.E. Nechaeva,
A.E. Tyuljakov,
A.Y. Feoktistov,
K.G. Shupen
Organization
JSC «Russian Institute of Radionavigation and Time»
Saint-Petersburg, Russia
Abstract
The paper presents the frequency/time support (FTS) of Global Navigation Satellite System (GNSS) GLONASS. The basic functions of GNSS GLONASS FTS are given, the FTS technology realized nowadays in GLONASS System Control Center is briefly described, the analysis of FTS hardware/software complex operation and its results are introduced, FTS accuracy characteristics and the main ways of their improvement are presented.
Keywords
global navigation satellite system, GLONASS
For citing this article
Bogdanov P.P., Druzhin V.E., Nechaeva O.E., Tyuljakov A.E., Feoktistov A.Y., Shupen K.G. Improving of the time-frequency support for GLONASS // The Research of the Science City, 2013, no. 3-4, pp. 12-16.

This Article is licensed under a Creative Commons Attribution-NonCommercial 4.0 International License (CC BY-NC 4.0).