Article
Cover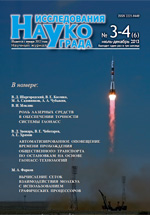 Title
The role of laser tools to ensure the accuracy of GLONASS
Authors
1
V.D. Shargorodsky,
2
V.E. Kosenko,
1
M.A. Sadovnikov,
1
A.A. Chubikin,
2
V.I. Moklyak
Organizations
1
JSC «Research and Precision Corporation «Precision Systems and Instruments»
Moscow, Russia
2
JSC «Academician M. F. Reshetnev» Information Satellite Systems»
Zheleznogorsk, Russia
Abstract
«Laser GLONASS» is a complex of techniques and technical means, on the basis of which the GLONASS signal-in-space error will be radically reduced. Creation and full deployment of onboard and ground laser GLONASS systems may be recognized as an effective and asymmetrical response to the competing systems (GPS, Galileo, etc.) concerning provision of the space segment precision. Development of prototypes and production samples of onboard and ground laser equipment is foreseen by the «Maintenance, development and use of the GLONASS system for 2012–2020» Federal Program. The problem of laser GLONASS development and therefore achievement of the worldwide leadership in the field of potential ephemeris-timing provision is the real prospective of the nearest time.
Keywords
Global Navigation Satellite System (GNSS), Positioning, Navigation and Timing (PNT), Global Positioning System (GPS), User Equivalent Range Error (UERE), laser ranging, Signal-in-space error, Intersatellite Laser Navigation Link System
For citing this article
Shargorodsky V.D., Kosenko V.E., Sadovnikov M.A., Chubikin A.A., Moklyak V.I. The role of laser tools to ensure the accuracy of GLONASS // The Research of the Science City, 2013, no. 3-4, pp. 17-27.