Article
Cover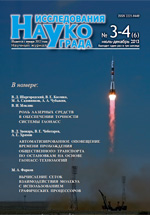 Title
Selection of effectiveness criteria of commercial communication satellites
Authors
V.E. Kosenko,
V.V. Popov,
D.A. Matronitsky,
V. E. Chebotarev,
A.A. Vnukov
Organization
JSC «Academician M.F. Reshetnev «Information Satellite Systems»
Zheleznogorsk, Russia
Abstract
The cost efficiency calculation models for communication satellites were developed considering two financing schemes: at the cost of own funds, and with the use of bank crediting. The cost efficiency indices: basic costs payback period and profitability index were developed for both schemes. Respective calculation methods for cost efficiency indices were developed for both financing schemes. There was proposed the constraint criterion for the cost efficiency factor existence range: the project profitability shall be no less than bank deposit profitability. Using assessed results there were developed guidelines for the payback period restriction: less than one third of the satellite lifetime.
Keywords
communication satellite, profitability index, payback period, economical efficiency
For citing this article
Kosenko V.E., Popov V.V., Matronitsky D.A., Chebotarev V. E., Vnukov A.A. Selection of effectiveness criteria of commercial communication satellites // The Research of the Science City, 2013, no. 3-4, pp. 24-28.

This Article is licensed under a Creative Commons Attribution-NonCommercial 4.0 International License (CC BY-NC 4.0).