Article
Cover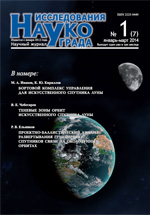 Title
Aeromobile complex for cellular communication, dispatching control, and monitoring
Authors
V.E. Chebotarev,
O.B. Gritsan,
E.S. Veretnova
Organization
JSC «Academician M. F. Reshetnev» Information Satellite Systems»
Zheleznogorsk, Krasnoyarsk region, Russia
Abstract
It is described the possibility of monitoring, dispatching control, and cellular communication for mobile users to be implemented in under-populated and hard-to-reach areas, as well as in disaster areas, based on application of captive balloons as an high-altitude platform-transponder. It is done synthesis and analysis of structural and functional scheme of aeromobile complex for cellular communication, dispatching control and monitoring. Performances are assessed for the following components of the complex: mobile user hardware, ground and balloon-born radio and information equipment, balloon-born means, as well as means for the complex delivery, deployment and maintain.
Keywords
cellular communication, balloon-born means, transponder, anenna
For citing this article
Chebotarev V.E., Gritsan O.B., Veretnova E.S. Aeromobile complex for cellular communication, dispatching control, and monitoring // The Research of the Science City, 2014, no. 1, pp. 19-25.

This Article is licensed under a Creative Commons Attribution-NonCommercial 4.0 International License (CC BY-NC 4.0).