Article
Cover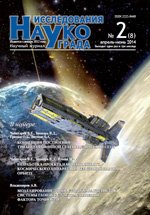 Title
Modeling of spacecraft electrical power supply for transients currents and voltages calculations after electrostatic discharge impact
Authors
1,2
D.V. Pochebut,
1,2
P.V. Kiselev
Organizations
1
JSC «Academician M. F. Reshetnev «Information Satellite Systems»
Zheleznogorsk, Russia
2
IBC «Applied Physics and Space Technology» SibFU, Zheleznogorsk, Russia
Abstract
Modeling of spacecraft electrical power supply (EPS) after electrostatic discharge (ESD) impact on unshielded bus «plus» of solar array (SA) electrical interface and on spacecraft (SC) case through the magnetospheric plasma was carried out. On the basis of this model levels for current and voltage impacts on the most interesting electrical circuit points (energy convert complex (ECC) inputs and outputs, ECC units, decoupler SA equipment) were determined. Recommendations and proposals for further analytical and experimental research were formulated to clarify the ESD and SC EPS models.
Keywords
modeling, spacecraft electrical power supply, transients, electrostatic discharge
For citing this article
Pochebut D.V., Kiselev P.V. Modeling of spacecraft electrical power supply for transients currents and voltages calculations after electrostatic discharge impact // The Research of the Science City, 2014, no. 2, pp. 10-15.

This Article is licensed under a Creative Commons Attribution-NonCommercial 4.0 International License (CC BY-NC 4.0).