Article
Cover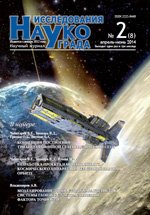 Title
Identification of perspective pathways in designing of communications spacecraft and formation of requirements through research and development of analysis methodology of spacecraft international market
Author
1,2
P.S. Ptukha
Organizations
1
JSC «Academician M. F. Reshetnev «Information Satellite Systems»
Zheleznogorsk, Russia
2
IBC «Applied Physics and Space Technology» SibFU, Zheleznogorsk, Russia
Abstract
It is considered several economical and mathematical methods of research and analysis of spacecraft market to identify optimal analysis methodology for making right decisions in designing of communications spacecraft and increasing effectiveness of manufactured production, required by satellite services consumer.
Keywords
analysis methods, economical and mathematical methods, spacecraft international market, designing, methodology, manufacturing process
For citing this article
Ptukha P.S. Identification of perspective pathways in designing of communications spacecraft and formation of requirements through research and development of analysis methodology of spacecraft international market // The Research of the Science City, 2014, no. 2, pp. 16-18.

This Article is licensed under a Creative Commons Attribution-NonCommercial 4.0 International License (CC BY-NC 4.0).