Article
Cover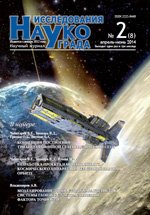 Title
Simulation accuracy characteristics of GLONASS system with a glance accuracy factor values
Author
A.V. Vladimirov
Organization
IBC «Applied Physics and Space Technology» SibFU
Zheleznogorsk, Russia
Abstract
The paper presents the results of analysis of accuracy factor values, transmit in navigation message of GLONASS system. An algorithm for usage accuracy factor values in navigation task solution is proposed in the paper. Accuracy characteristics of GLONASS system are simulate with use of the algorithm.
Keywords
accuracy factor, simulation, GLONASS, satellite systems
For citing this article
Vladimirov A.V. Simulation accuracy characteristics of GLONASS system with a glance accuracy factor values // The Research of the Science City, 2014, no. 2, pp. 24-26.

This Article is licensed under a Creative Commons Attribution-NonCommercial 4.0 International License (CC BY-NC 4.0).