Article
Cover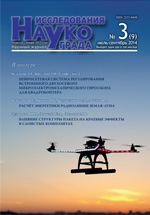 Title
Earth-Moon link budget
Authors
V.E. Chebotarev,
O.B. Gritsan,
A.M. Badertdinov,
V.A. Anzhina
Organization
JCS «Academician M. F. Reshetnev» Information Satellite Systems»
Zheleznogorsk, Russia
Abstract
It is studied the radio link between base lunar communication station and ground link station. Requirements for base lunar station antenna beamwidth are formulated depending on used tracking means. Based on analysis of existing ground link stations the frequency plan as well as data structure and rates were defined. Radio link calculation and basic characteristics selection were performed for equipment of base lunar station, ground link station and their antenna systems.
Keywords
satellite communication, base lunar communication station, ground link station, radio link parameters, antenna system
For citing this article
Chebotarev V.E., Gritsan O.B., Badertdinov A.M., Anzhina V.A. Earth-Moon link budget // The Research of the Science City, 2014, no. 3, pp. 21-24.

This Article is licensed under a Creative Commons Attribution-NonCommercial 4.0 International License (CC BY-NC 4.0).