Article
Cover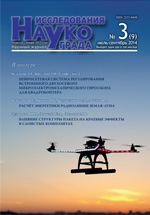 Title
The algorithm of lattice load-bearing structures designing by the msc.patran software
Author
A.A. Vnukov
Organization
JCS «Academician M.F. Reshetnev» Information Satellite Systems»
Zheleznogorsk, Russia
Abstract
In this article the sequence of simple and authentic lattice load-bearing structures designing is presented. A references concerning of key aspects in MSC.Patran software modelling is provided. The algorithm is aimed at simple and simultaneously authentic model designing, this model may be used on the pre-designed stage of modern satellites projects.
Keywords
Finite-element model, lattice isogrid structure, MSC.Patran
For citing this article
Vnukov A.A. The algorithm of lattice load-bearing structures designing by the msc.patran software // The Research of the Science City, 2014, no. 3, pp. 36-40.

This Article is licensed under a Creative Commons Attribution-NonCommercial 4.0 International License (CC BY-NC 4.0).