Article
Cover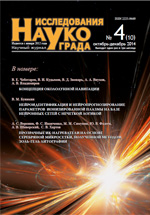 Title
Circumlunar navigation
Authors
V.E. Chebotarev,
V.I. Kudymov,
V.D. Zvonar,
A.A. Vnukov,
A.V. Vladimirov
Organization
JCS «Academician M. F. Reshetnev» Information Satellite Systems»
Zheleznogorsk, Russia
Abstract
We formulated the requirement to customer-tailored navigationon lunar surface andcircumlunar space. In the article we have considered the principles of satellite navigation and corresponding on-orbitstructures. We have talked the problem of navigation-to communication at the user unit and a satellite.
Keywords
circumlunar navigation and communication,base lunar station, navigation–communications satellite
For citing this article
Chebotarev V.E., Kudymov V.I., Zvonar V.D., Vnukov A.A., Vladimirov A.V. Circumlunar navigation // The Research of the Science City, 2014, no. 4, pp. 14-20.

This Article is licensed under a Creative Commons Attribution-NonCommercial 4.0 International License (CC BY-NC 4.0).