Article
Cover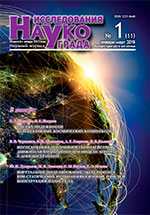 Title
The methodology of intellectual property management for creating competitive products
Author
R.P. Turkenich
Organization
JSC «Academician M. F. Reshetnev «Information Satellite Systems»
Zheleznogorsk, Russia
Abstract
A correlation between the results of research and development activities and their protection as intellectual property are shown. Special emphasis was placed to the issues of commercialization of intellectual property. The methodology of managing intellectual property for the creation of competitive products, the foundation of which is an effective expertise is provided.
Keywords
intellectual property, identification of scientific and technical activities, the methodology of management by the intellectual property, effective expertise active link
For citing this article
Turkenich R.P. The methodology of intellectual property management for creating competitive products // The Research of the Science City, 2015, no. 1, pp. 5-13.

This Article is licensed under a Creative Commons Attribution-NonCommercial 4.0 International License (CC BY-NC 4.0).