Article
Cover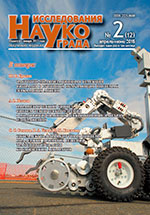 Title
Multistage form of a composite transparent conductive coatings of a carbon nanotube – PEDOT:PSS
Authors
1,2,3
A.S. Voronin,
2,3
F.S. Ivanchenko,
3,4
M.M. Simunin,
3
Yu.V. Fadeev,
2,3
A.V. Shiverskiy,
1,3
S.V. Khartov
Organizations
1
Krasnoyarsk Scientific Center, Siberian Branch of the Russian Academy of Sciences
Krasnoyarsk, Russia
2
Siberian Federal University
Krasnoyarsk, Russia
3
FunNano
Krasnoyarsk, Russia
4
National Research University of Electronic Technology (MIET)
Moscow, Russia
Abstract
The possibility of forming composite multistage transparent coatings having superior conductivity on the basis of carbon nanotubes (CNTs) – a conducting polymer (PEDOT:PSS) by spray method are presents. The coatings are characterized by a combination of low surface resistance (89 ohms/sq.) and high optical transparency (~ 81 %). The main advantage of the resulting coatings is the mechanical stability to bending deformation.
Keywords
carbon nanotube, PEDOT:PSS, transparent conductive coatings, spray method
For citing this article
Voronin A.S., Ivanchenko F.S., Simunin M.M., Fadeev Yu.V., Shiverskiy A.V., Khartov S.V. Multistage form of a composite transparent conductive coatings of a carbon nanotube – PEDOT:PSS // The Research of the Science City, 2015, no. 2, pp. 44-48.

This Article is licensed under a Creative Commons Attribution-NonCommercial 4.0 International License (CC BY-NC 4.0).